All Aboard for the Time of Your Life!
Monday, July 15 (Dinner): Today we fly to the mile-high city of Denver, and make our way to the city of Golden. This former gold rush town is located at the foothills of the Rocky Mountains and known for its amazing weather and sunny days! We'll check into the Courtyard Marriott for one evening. Tonight we'll enjoy a delightful dinner with our fellow Good Neighbor members.
Tuesday, July 16 (Breakfast, Dinner): This morning we travel back in time as we climb aboard the Georgetown Loop Railroad. Completed in 1884, this spectacular stretch of three-foot, narrow-gauge railroad was considered an engineering marvel for its time. It's full steam ahead as we enjoy a scenic journey filled with mountain views, rushing streams, and towering trees. Next, we make our way through the Rocky Mountains to the charming town of Palisade. Named after the cliffs near the town, it is known as the "Peach Capital of Colorado" due to its fertile soil and abundant sunshine. We'll check into the boutique-style Wine Country Inn for two nights. This beautiful Victorian hotel sits in the middle of a 21-acre vineyard that produces the grapes for their signature label wines. Enjoy the Inn's complimentary tasting of these wines or stroll through the working vineyards. Tonight, we'll enjoy a "Taste of Palisade" dinner at the hotel.
Wednesday, July 17 (Breakfast, Dinner): The day begins with a visit to Colorado National Monument. This national park was established in 1911 and preserves one of the grandest landscapes of the American West. This treasure is much more than a monument with its towering monoliths that exist within a vast plateau and canyon panorama. The oldest rock formations date back 1.5 billion years. During our guided, driving tour, we'll experience sheer-walled, red rock canyons along the twists and turns of Rim Rock Drive. Watch for bighorn sheep and soaring eagles. The afternoon is free for you to spend as you wish. Optional tours (additional fee applies) will be offered such as a wine tour or scenic river float on the Colorado. Or perhaps sit back and relax by the Inn's outdoor pool. Tonight, we're in for a treat as the beauty of the local orchards is the stage for our Orchard Dinner.
Thursday, July 18 (Breakfast, Dinner): Today we travel to the southwestern corner of Colorado via the Million Dollar Highway – one of the most beautiful roads in all of Colorado! The road winds and clings to the mountain providing dramatic views at every turn. Upon arrival to the historic mining town of Silverton, set at over 9,000 feet above sea level, you'll have free time to explore an abundance of historic buildings, shop, and enjoy lunch on your own. Then it's all aboard the Durango & Silverton Scenic Railroad! Recognized as one of the Top Three Most Exciting Train Journeys in the World, our vintage steam locomotive navigates the same tracks that miners, cowboys, and settlers of the Old West took over a century ago. After our three and a half hour journey to Durango we'll check into our riverside rooms at the DoubleTree by Hilton Durango for two nights.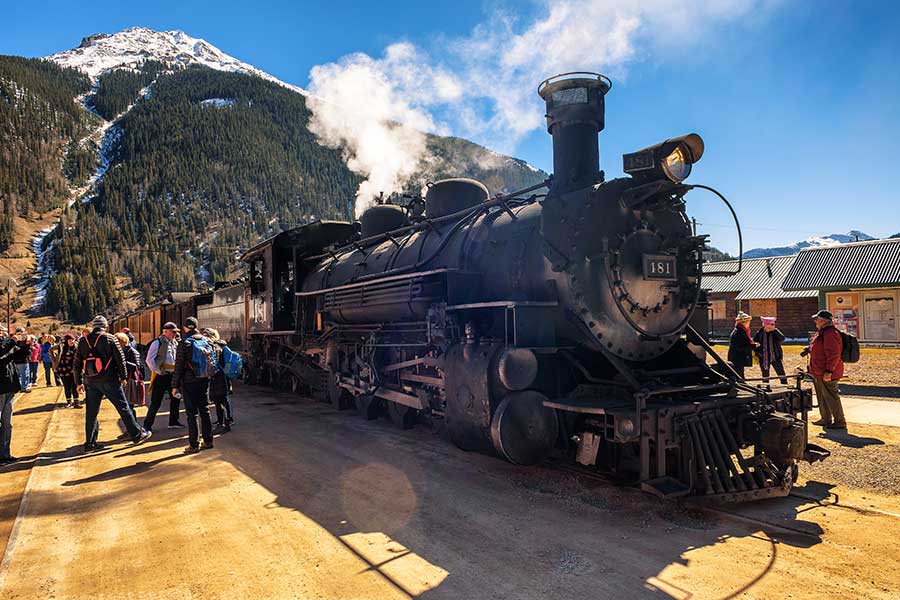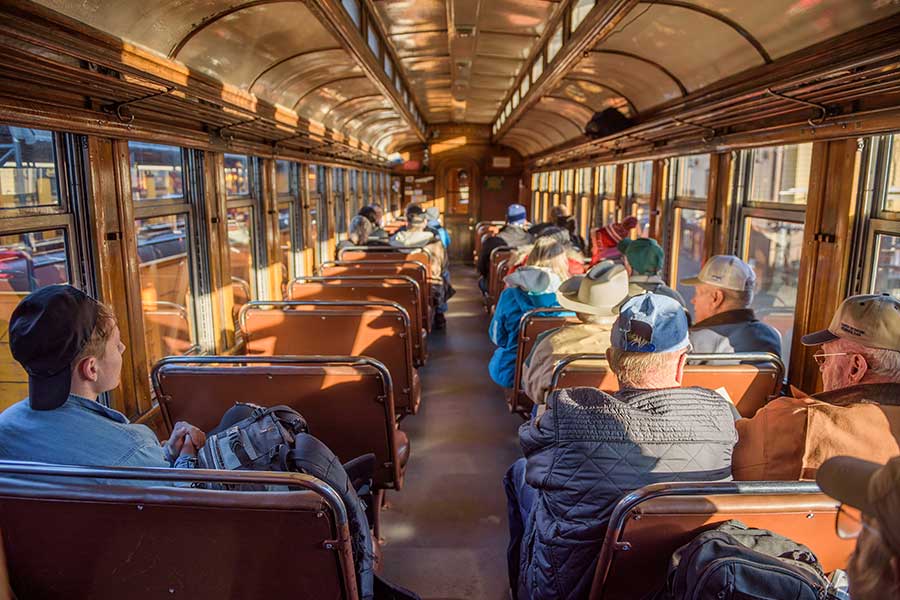 Friday, July 19 (Breakfast, Dinner): Today we travel to incredible Mesa Verde National Park. The park was established in 1906 to preserve and interpret the archeological heritage of the Ancestral Pueblo people who made it their home for over 700 years. It protects nearly 5,000 known archeological sites, including 600 cliff dwellings which are pueblos built beneath the overhanging cliffs. These sites are some of the most notable and best preserved in North America. The structures range in size from one room to villages of more than 150 rooms. We'll return to Durango and step back into the Old West for an entertaining evening at the Bar D Chuckwagon Supper.
Saturday, July 20 (Breakfast, Lunch): Today we're off for another train adventure as we climb aboard the Cumbres & Toltec Scenic Railroad, which is a National Historic Landmark. Our 64-mile journey via coal-fired, steam engines travels through steep mountain canyons, high desert, and lush meadows as we zig zag between the Colorado and New Mexico border. A delicious hot lunch is included at our mid-way stop at Osier station. Tonight, we'll overnight at the Fairfield Inn in Alamosa.
Sunday, July 21 (Breakfast, Dinner): Today we'll visit the unique and beautiful Great Sand Dunes National Park and Preserve. The tallest dunes in North America are the centerpiece here in a diverse landscape of grasslands, wetlands, conifer and aspen forests, alpine lakes, and tundra. The dunes formed over thousands of years by sand deposited by mountain streams and lakes, then carried by wind toward a low curve in the Sangre de Cristo Mountains. This afternoon we hit the rails one last time and experience one of America's most spectacular rail journeys aboard the Royal Gorge Route Railroad. In 1905, President Teddy Roosevelt described it best as "the trip that bankrupts the English language!" We'll all be singing "Rocky Mountain High" before the ride is over! Afterward, we make our way to Colorado Springs to enjoy a lovely dinner together. Later, we check into the Hyatt Place Garden of the Gods for the evening.
Monday, July 22 (Breakfast): Our final day is filled with more beauty and awe as we begin with the National Historic Landmark Garden of the Gods. In 1859, when surveyor Rufus Cable first saw towering rocks near Pikes Peak, he enthusiastically declared that it was "a fit place for the gods to assemble!" From this excited outburst came the name Garden of the Gods. On our guided driving tour, we'll experience dramatic views of 300′ towering sandstone rock formations all set against the backdrop of snow-capped Pikes Peak and brilliant blue skies. The park is simply breathtaking. If time allows before our flight this afternoon, we will have lunch and explore the resort town of Manitou Springs. The town was founded for its natural mineral springs and has a charming downtown area. Next, we make our way to the Denver airport from where we'll bring home with us an immense appreciation for the abundant beauty and vast history of Colorado.
Please call Betty for reservations at (320) 214-3009