The Lake Region Bank team is more than your local bank. We're your neighbors and part of your community. Everyone at Lake Region Bank takes our responsibility to our community seriously. That's why we participate in and host community events throughout the year and encourage our team members to volunteer with local organizations. Here's a peek at just a few of the ways we serve our community. For more, visit us on Facebook!
Minnesota Bankers Association Community Impact Month
The MBA's Community Impact Month is something we look forward to every year. Throughout the month of September, we work together to complete projects in our community. Recently, we have put together welcome baskets for local teachers. We gathered donations, assembled the baskets, and delivered them to teachers and staff in the Willmar Public School District, New London-Spicer School District, and the Community Christian School of Willmar.
Kandiyohi Community Food Shelf
We believe that none of our neighbors should ever go hungry. That's why we support the Kandiyohi County Food Shelf. Last year, we raised more than $1,000 for the organization through its annual Radio for Relief fundraiser. We made it a competition to see which banker received the most donations, and the winner got a pie in the face! It was a fun-filled event that helped our neighbors gain access to the food they need.
Willmar Lakes Area Chamber of Commerce
Lake Region Bank has been a member of the Willmar Lakes Area Chamber of Commerce for more than 40 years. Through our membership, we are able to network with other local businesses and find opportunities to support local nonprofits and other community organizations. We're looking forward to the next 40 years with the chamber.
Adopt a Highway Sponsorship
If you think Highway 9 is the cleanest highway in the state, then you have Lake Region Bank staff to thank. Since 2004, our volunteers have cleaned up highway ditches to keep them free of trash. We regularly visit our stretch of highway to make sure it represents our pride in our community and ensure our waterways stay clean.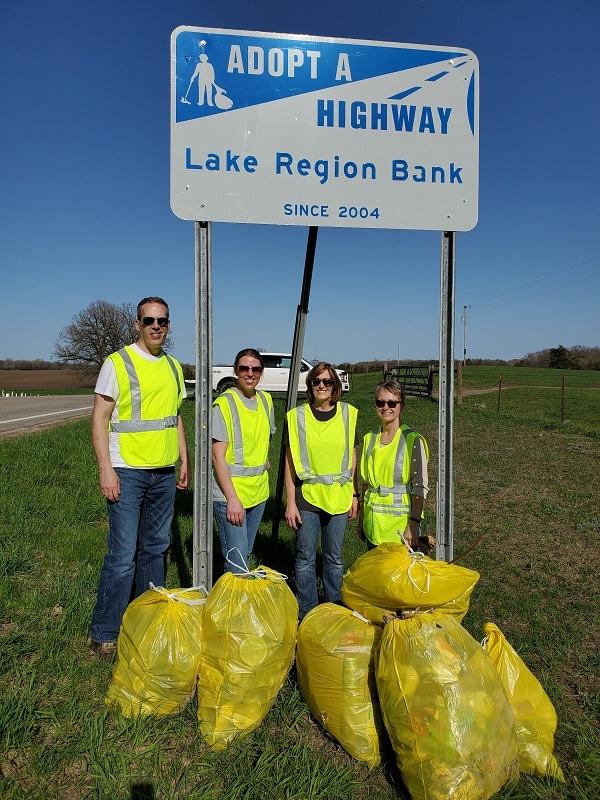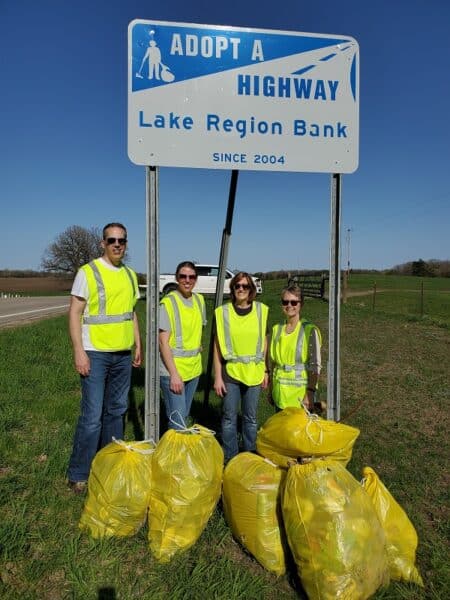 Other Volunteering Events
The Lake Region Bank team is always looking for a reason to volunteer. In 2014, we participated in the ALS ice bucket challenge, raising $1,131 for the ALS Association. During the pandemic in 2020, we donated face masks for area elementary students. We also partner with our community bank neighbors annually to host a blood drive for the American Red Cross. We are looking forward to the next opportunity to volunteer!
Looking for a local bank that shares your commitment to your community? Then Lake Region Bank looks forward to serving you! Get in touch today.